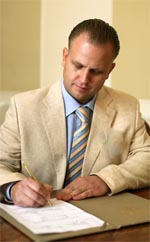 What to Watch Out For
There are many unscrupulous expungement websites that offer "expungement assistance," which is just a term that means you'll be doing all the work. Beware as most of these sites are not run by attorneys. These companies are usually staffed with form-processors and paralegals. These companies can not represent you in court and have a poor success rate at expunging criminal records. Many customers are left helpless as these companies may have ruined the only chance their customers had at successfully expunging their criminal record.
Choose an Attorney that Specializes in Expungement
There are several law firms that specialize in expungement. RecordGone.com is based in Santa Ana.  They have handled more than 1,000 expungements in Southern California.     Expungement attorneys are familiar with the court procedures and rules which results in a quicker expungement and a much higher success rate.
Questions to ask an Expungement Attorney, Lawyer
The first thing to ask an expungement attorney is are they license to practice law in California or Florida. Get their state bar number and make sure it is valid. The next thing to ask is when they can start on your case. Also ask the following:
Does the price include all fees associated with the expungement
Does the service come with a money back guarantee
Does the law firm specialize in expungement and record sealing
Have they handled expungement cases like yours
Does the price include answering objections from the DA
Does the price include sending an attorney to court for you
What is their success rate with expunging records