Southern California has recently entered a period of extreme heat, with the temperature reaching the 90s and higher. The area is not only susceptible to wildfires, but also fires in domestic areas. According to the OC Register, a recent fire in Buena Park has heavily damaged a home and the cause could potentially be either an accident or perhaps even intentional arson.
Details Surrounding the House Fire
According to Salvador Hernandez of the OC Register, a home in Buena Park became engulfed in flames on Mother's Day. The fire is believed to have started in the garage and spread quickly up into the attic, damaging three cars parked in the driveway and parts of the house. Luckily there were no injuries reported but the family of five is now temporarily displaced. The fire department is currently investigating the source of the fire.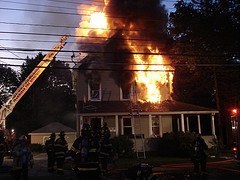 Fire photo by Chris Topdesoto
Arson in Irvin
A few weeks prior, a grass fire in Irvine led to the arrest of a 20-year-old man for arson. According to Jeremiah Dobruck of the Daily Pilot, John Howe put in the call to 911 to report a fire in Irvine's Turtle Rock neighborhood. When the fire department arrived on scene they found that the fire was highly suspicious because it had started from a piece of a wood with dry leaves placed on top. Police arrested Howe under the suspicion that he had started the fire but it grew larger than he had anticipated. The young man is currently under arrest on suspicion of arson.
California Arson Laws
According to leginfo.ca.gov, Penal Code Section 451 states that an individual is guilty of arson "when he or she willfully and maliciously sets fire to or burns…any structure, forest land, or property." Section 451 goes on to state "arson of a structure or forest land is a felony punishable by imprisonment in the state prison for two, four, or six years.
The house fire in Buena Park could very well be entirely accidental. In Howe's case, however, he will likely face a felony charge and prison sentence for his involvement in starting the grass fire in Irvine. If you currently face or have been sentenced to similar charges, a felony expungement under Penal Code Section 1203.4 may remove your arson criminal charge, helping you to find better employment and housing opportunities.
Read More